Aluminium Container Ramps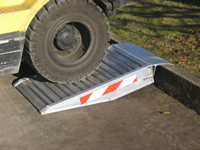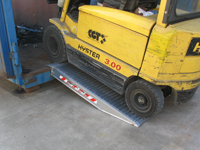 | SKU | Capacity (kg) | Height (mm) | Height of Ramps Profile (mm) | Length (mm) | Max Load Height | Min. Load Height (mm) | Weight per Ramp (kg) | Weight Per Pair (kg) | Width (mm) | Minimum Track Width (mm) | Maximum Track Width (mm) | Price |
| --- | --- | --- | --- | --- | --- | --- | --- | --- | --- | --- | --- | --- |
| TRP40B2/05 | 1250 | 40 | 40 | 500 | 150 | 120 | 3 | 6 | 215 | 150 | 220 | €300.00 |
| TRP40B2/08 | 1250 | 40 | 40 | 800 | 180 | 160 | 4 | 8 | 215 | 150 | 220 | €320.00 |
| TRP40B3/05 | 2000 | 40 | 40 | 500 | 150 | 120 | 4 | 8 | 315 | 150 | 220 | €320.00 |
| TRP40B3/08 | 2000 | 40 | 40 | 800 | 180 | 160 | 6 | 12 | 315 | 150 | 220 | €365.00 |
| TRP80/05 | 3000 | 65 | 67 | 495 | 150 | 120 | 3.5 | 7 | 300 | 150 | 220 | €415.00 |
| TRP80/08 | 3000 | 65 | 67 | 795 | 180 | 160 | 5 | 10 | 300 | 150 | 220 | €475.00 |
| TRP150/12 | 7500 | 150 | 150 | 1250 | 260 | 220 | 20.5 | 41 | 510 | 200 | 430 | €815.00 |
| TRP150/15 | 7500 | 150 | 150 | 1500 | 310 | 270 | 22 | 44 | 510 | 200 | 430 | €895.00 |
| TRP150/17 | 7500 | 150 | 150 | 1750 | 360 | 320 | 25 | 50 | 510 | 200 | 430 | €1,170.00 |
| TRP160/20 | 7500 | 160 | 160 | 2000 | 400 | 370 | 30 | 60 | 510 | 200 | 430 | €1,335.00 |
Perfect for any industry, our ramps can also all accommodate plant machinery and loading vehicles and our short ramps and car ramps come from a variety of ramp series that are ideal for forklifts and trailers allowing you to cross pavements, steps and small obstacles as well allowing easy access for loading and unloading any container.
Please be aware that if you request a hook end to your vehicle ramp, it may be slightly shorter than the advertised length. Our friendly sales team will be able to assist you with any queries regarding your purchase.
Usage guidelines and safety information for this product can be found here.