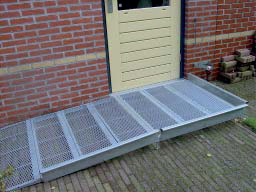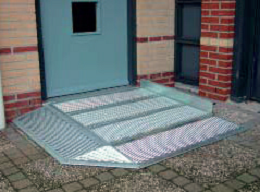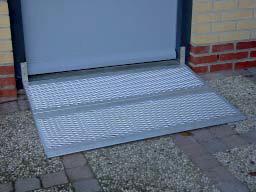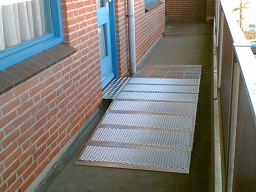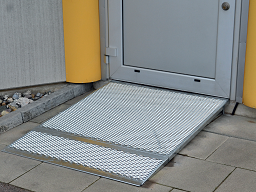 With the new Miniramp you can build small entrance platforms, steps and small ramps. Miniramp is perfect for limited spaces with small height differences. The modules can be built together to a length of your choice and it is also possible to angle the ramp at 90 degrees. When required kick sides can also be fitted to prevent slipping off.
The Miniramp is used as a so-called ground attachment to our modular ramp system. By combining these products, you can reach an excellent entrance solution that can quickly be created with the minimum of time for project planning and fitting.
The modules are constructed to be usable in various Layouts, please see above a few examples. The Miniramp is made of galvanised steel. The tread surfaces are of expanded metal mesh (size 43 x 17mm).
The lowest usable height (build height) is 38mm. With a standard leg kit, fitting can be carried out up to a height of 160mm. Alternative fitting method: Hook the upper end of the ramp onto two screws fixed in the side of the threshold. Please contact us if you need more information.