Wheelchair Ramp Buying Guide
Mobility Ramp Guide
The Ramp People's wheelchair ramps are among the UK's most popular mobility ramps, and are widely used by the NHS, nursing homes, and the healthcare industry. To help ensure that you get the appropriate ramp for your needs, we have developed this guide to help you identify the right ramp for you.
What length ramp do I need?
A minimum gradient of 1:6 is recommended for assisted manual wheelchairs. Consequently, for a 1-foot rise (load height), a 6-foot ramp will be required. In the case of mobility scooters, unassisted manual wheelchairs, electric wheelchairs and walkers, we recommend a minimum gradient of 1:8. For a 1-foot rise (load height), for example, you will need an 8-foot ramp. Mobility scooters and electric wheelchairs often require a smoother gradient due to low clearance.

Ramp Length
For assisted manual wheelchairs we would recommend a minimum gradient of 1:6. Thus, for example, for a 1 foot rise (load height) you'll need a 6 foot long ramp. For unassisted wheelchairs, mobility scooters and walkers we recommend a minimum gradient of 1:8. Thus, for example, for a 1 foot rise (load height) you'll need a 8 foot long ramp. Mobility scooter ramps need to be longer due to the low ground clearance. Alternatively you can use our Wheelchair ramp calculator by clicking on image below:
Use our length calculator to help calculate the right size wheelchair ramp for your needs.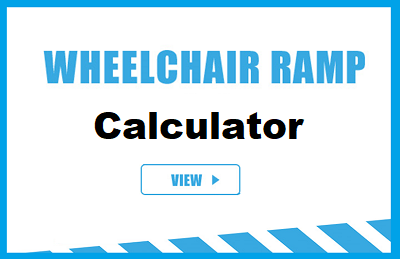 Width
It's worth remembering that your ramp needs to be wide enough to accommodate your wheelchair/mobility scooter, yet narrow enough to fit into the threshold you are bridging.
Is portable or semi-permanent right for me?
Choosing a portable or semi-permanent ramp entirely depends on your personal preference. Portable ramps can be moved around and require little to no installation. Semi-permanent ramps are usually sturdier and require more complex installation. Ultimately, it's up to you to decide which type of ramp works best for your needs. If you are looking for a portable ramp, folding or channel ramps would be a good choice. In the case of semi-permanent ramps, the adjustable threshold ramps, rubber threshold ramps, or modular ramps may be left outdoors regardless of the weather.
I still need help!
If you require additional assistance, please email us at hello@theramppeople.co.uk with pictures and measurements, and we will be happy to provide you with advice on ramp length and type that would be most appropriate for your obstacle.
Used to access vehicles, bridge steps and kerbs

Flexible in terms of compactness, portability, weight, length and use

Not recommended for mobility scooters due to side walls;

Perfect allowing manual wheelchairs to overcome narrow doorways

Used to bridge single steps and thresholds

Available in aluminium or rubber

Designed to be highly durable and incredibly easy to install

Folds down to half its width making it perfect if it needs to be moved regularly

Lightweight, durable and have an anti-slip grip surface

Suitable for manual, electric wheelchairs or scooters

This range folds to half its length and then to half its width, very compact!

These ramps are solid, durable and have a choice of anti-slip grip surface

Suitable for manual, electric wheelchairs, scooters or walkers

Available in lengths up to 10ft

Comprises of 2 halves that lock together when in position

Available in longer lengths, 1.8-2.7m, perfect for higher rises

Incredibly lightweight but strong

Folds to half its length, making it extremely easy to store

Lightweight, strong and have an anti-slip grip surface

Folds down the length of the ramp

Boasts a 300kg capacity

Requires no installation or fixing

Available in shorter lengths making them perfect for lower rises

Quick and easy to setup
If you need any help specifying a permanent or semi-permanent wheelchair ramp, do give us a call.
The Ramp People are proud members of the BHTA and full subscribe to the BHTA Code of practice.