Rubber Threshold wheelchair Ramps Guide
The Ramp People's most popular Rubber Threshold Ramps are perfect for heights from 4mm – 177mm / 7 inches
The Ramp People offer two different rubber threshold ramps, in the imperial size inches and the metric sizes in mm. The imperial products feature sloped edges for access from all sides. The metric products by standard are built in a 1:10 gradient and offer a slightly smoother access.
Please measure your step height and choose the closest size in our wide range. Also, keep in mind the length and width of each ramp, and make sure they fit overall in their designated spot.
The Rubber Threshold Ramps are perfect for manual wheelchairs, scooters, electric wheelchairs, walkers and foot traffic. Even pets have been known to love them! The ramps are multi-purpose, many also find them ideal to load trolleys and even occasional pallet trucks due to the smooth gradient and up to 1000kg capacity.
All you need to check before ordering you need to measure the vertical height of the threshold and then choose the closest size in our wide range. Also, keep in mind the length and width of each ramp, and make sure they fit overall in their designated spot. If you are unsure you can always ask our team for assistance.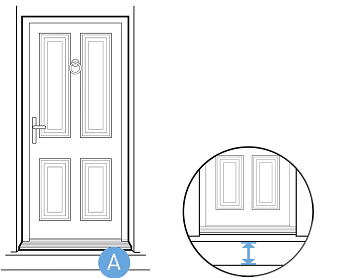 The ramps are durable with a ridged, anti-slip surface. They can be used internally and externally. As they are made from 100% recycled rubber they can be left outside and left in place.
The Rubber Threshold Ramps do not require installation, simply rest next to the threshold and start using. The lower heights are lighter and therefore some do prefer to use adhesives or tape to secure these in place however this is optional.
The ramps are provided in widths between 900mm – 1105mm. If this is too wide for your doorway, you can simply cut the ramp to your required width with a Stanley knife or saw. Please note we are unable to cut the ramps for you.
If you require a wider solution, you can simply purchase two ramps and place these alongside one another, again you can cut the ramps to gain your required width.
The Rubber Threshold Ramps are listed in mm or in inches, the TRP-RMP rubber threshold ramps are listed in mm and are all built in a smoother a 1:10 gradient with a straight edge allowing more ramps to be placed side by side.
The TRP-RT rubber threshold ramps are advertised in inches are slightly steeper as they are built with a slightly inclined edge and to gradients between 1:6 – 1:8 depending on the height option you require.
Either of the ramp are easy and quick to use, as can be seen on our videos below:
Rubber threshold ramps:
As well as being designed to fit steps up to 100mm, you can use different heights together to provide access over trickery thresholds. For example, if your threshold has several heights or ridges, you can lay one ramp over the other to provide safe access.
Please note, as the ramps increase in height they also increase in weight. Please do check the weight prior to purchase as the ramps are ramp the higher heights can be quite heavy. For instance, the 4 inch rubber threshold ramp weights 23.6kg. If you are seeking a lightweight, temporary solution you may prefer to view our Aluminium Ramps or Fibreglass Ramps.
For more information, please see our frequent asked questions, FAQ's here or contact us for any further inquiry.