Mobile Yard Ramp User Guide: Training And Maintenance
Our Mobile Yard Ramp is a popular solution to allow companies to quickly load and unload shipping containers located on a lorry. The ramps are adjustable, due to the hydraulic assist, to heights between 800 - 1650mm. The Mobile Docking Ramp can easily be manoeuvred using a forklift. The ramps are provided with capacities up to 15,000kg and, due to their smooth gradient and anti-slip mesh surface, forklifts, genies and plant machinery are easily able to go up and down the ramp. Edges are provided on the ramps for safety. In addition, if you plan to have team members walking up and down the ramp full length steel handrails can also be provided on the side of the ramp. Please note, we of course do not recommend you have members of your team walking up/down the ramp when vehicles are on the ramp. All of our Yard Ramps are CE marked, provided with a 1 year warranty and can be left outside. Customisations are available, simply ask our team if you have any specific requirements. 
The Ramp People's Mobile Yard Ramps have a life expectancy of over 10 years' and they hold their value well. It is still of course important to maintain the ramp to the highest possible standards to ensure your ramp retains its value as long as possible.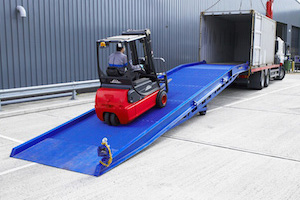 Staff Training 
It is of course essential to use the Mobile Yard Ramp safely. Handrails are provided as an optional extra to improve safety on the ramp if your team are walking up it. The hydraulic assist function easily allows you to amend the height of the ramp to secure the load height you require. The swivel fork allows you to easily move the ramp using a forklift. If you have not had a Yard Ramp before, or simply wish to improve your team's knowledge, we offer training from a factory technician who will come to your site and provide your team with training. The fee depends on your location but it is generally circa £500.00 + VAT. A training guide is of course provided with the ramp, you can also always contact our team via email or phone who will be happy to assist with queries. 
Maintenance Preparation 
Before undertaking any maintenance on the ramp, it is essential the ramp is supported and securely held in place. Most maintenance will occur below the ramp as this is where the hydraulic system and running gear is located. Supports should be put in place under the lip end (at the top of the ramp/rest on connection) and should be stable and sturdy prior to any of the maintenance team going below the ramp. For additional safety, we recommend using wheel chocks to hold the ramp in place and prevent it from rolling during works. The ramp should not be used whilst maintenance it being undertaken. 
Trouble Shooting 
In generally, the Yard Ramps only have problems due to misuse, which is why training is recommended. We do of course recommend reading the user guide provided with the ramp. Problems which may arise include: uneven raising or lowering, oil leaks, ramp sinking when the valve is closed. If these problems occur, or any others, please do contact our team who will be happy to assist or arrange for you to speak with a technician. 
General Maintenance
We recommend regularly checking the following items on the ramp. 
Hydraulic Hand Pump
Hydraulic Lines & fluid
Hydraulic Cylinder
Wheel Bearings
Wire bush rush spots, prime & paint 
Details of how to repair or replace these can be found in the user guide supplied with the ramp.