Q. How long should the ramp be?
A. For plant ramps Health & Safety we recommend that no gradient greater than 30% (16.5 degrees) should be used. Furthermore, no TUV Certified Ramp is designed to exceed this gradient. To calculate your gradient simply measure the height from ground level to the loading deck & multiply this by 3.3 to give the optimum length of ramp.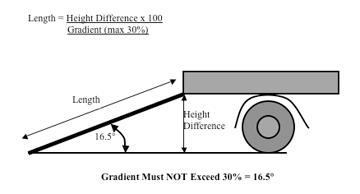 Q. Should I allow extra capacity in the ramps for safety?
A. No. Our ramps are manufacturer and engineered to European TUV standards, which require us to build in a 200% safety. When calculating which capacity you require you must factor in the weight of the machine, the load if any, the operator, fuel/oil and attachments. Please note if you exceed the stated capacity the warranty is invalidated.
Q. How durable are aluminium ramps compared to steel?
A. If the ramps are used sensibly, there is no reason why aluminium ramps should not last as long as steel, and much longer than steel ramps with wooden inserts.
Q. Do the ramps have a minimum load height?
A. Yes, please check specs of each ramp.
For custom solutions, please contact our ramp specialists