The Ramp People are committed to excellence, quality and safety during the manufacture of all products.
From your original inquiry to delivery and beyond, your satisfaction is our prime concern, that is why The Ramp People are the Number 1 suppliers of vehicle ramps, car ramps, van ramps and truck ramps in the UK.
Our customers include Schools, County Councils, MOD, NHS Trusts, Care Homes, Plant Manufacturers, Oil Exploration Companies, Off Shore Drilling Platforms, Film/Media Companies, Trailer Manufacturers and haulage companies. They buy from The Ramp People because they believe that no other product matches The Ramp People for quality engineering, safety and value for money.
Manufactured special parts can be added to any of The Ramp People range as we offer a full ramp and metal manufacturing facility.
Technical Drawings can be supplied from our design facility.
Product Dimensions – please note that due to manufacturing techniques and processes all dimensions of products may vary by up to 2% plus or minus of the dimensions shown on the website. The only exception to this is ramp length of our vehicle ramps and loading ramp range – the lengths shown may vary by up to 5% depending upon the connection chosen. If you require a specific length please do let us know and we can advise accordingly.
Q. How long should the ramp be?
A. For plant ramps Health & Safety we recommend that no gradient greater than 30% (16.5 degrees) should be used. Furthermore, no TUV Certified Ramp is designed to exceed this gradient. To calculate your gradient simply measure the height from ground level to the loading deck & multiply this by 3.3 to give the optimum length of ramp.
Delivery is usually made by courier directly to your door.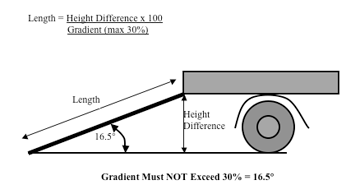 If you need your ramps to access buildings, whilst using a wheelchair for example, then simply use the height of the step or steps as you as your height difference. The recommended gradient for public buildings is 6%. For wheelchair ramps please see our wheelchair ramp buying guide.
Q. Should I allow extra capacity in the ramps for safety?
A. No. Our ramps are manufacturered to European standards. When calculating which capacity you require you must factor in the weight of the machine, the load if any, the operator, fuel/oil and attachments. Please note if you exceed the stated capacity the warranty is invalidated.

Q. How durable are aluminium ramps compared to steel?
A. If the ramps are used sensibly, there is no reason why aluminium ramps should not last as long as steel, and much longer than steel ramps with wooden inserts.

Q. Can I load steel tracked equipment?
A. The Ramp People have a number of vehicle ramps and plant ramps that are available with a rubber coated surface or milled surface that allows the harder steel tracks to be used on aluminium ramps. The usual vehicle and plant ramps are NOT suitable for solid wheeled machinery.

Q. Can I use a winch to assist loading equipment?
A. Winches fundamentally alter the normal weight distribution when loading machines and equipment. Stated weight limits are dramatically reduced when using a winch. Winches can be used but great care and attention must be taken, please speak with our sales advisers for help specifying ramps. The most important thing is to keep the rope of winch parallel with the ramp. If you intend to use a winch please make this clear to your sales adviser before purchasing.

Q. When in use, how do I secure the ramps to my vehicle?
A. Safety is The primary concern and The Ramp People can provide a number of very secure connection options to suit your vehicle, it is really up to you.

Many of our ramps are supplied with our movable safety devices that slide in the aluminium extrusion under the loading lip. This device should be placed between the lorry bed and the tailgate. Once this is in place the ramps will not shift during loading. Another option is to use the drop bolts supplied. The loading lips of the ramps are pre-drilled to accommodate the bolts. Our low loader ramps have underside tie bars for attaching a chain or strap.

Q. What if I need a specific length or width?
A. The Ramp People can manufacture vehicle ramps or wheelchair ramps to any length or width.

Q. Can The Ramp People manufacture special applications/do custom builds?
A. The Ramp People manufacture a wide range of aluminium and steel extrusions and have been able to solve many unusual loading problems. Previous projects include purpose made plant ramps for drilling rigs, custom built truck ramps, ramps for unloading barges, vehicle ramps for the MOD and the oil industry along with many specialist plant ramps and car ramps. We can also manufacture bespoke ramps for wheelchairs and disabled access. Modifications undertaken by anyone other than The Ramp People invalidate the warranty.

Q. Do you have any instruction manuals for your loading ramps?
A. Yes. Please click on the links below to be redirected to the relevant user guides for your product:
Plant Ramps
Modular Wheelchair Ramps
Adjustable Threshold Wheelchair Ramps
Speed Bump Guide on Installations and Positioning