Car ramps are an essential piece of equipment to help you to easily load cars and vehicles into containers and up kerbs. European guidelines recommend loading vehicles at a maximum gradient of 30% however, when loading cars you often will require a smoother gradient if your car has low ground clearance, for example for classic cars and sports cars. 
How To Load Your Car Safely 
When loading your car up heights, it is important to have someone with you to help to guide you up the ramps. Ensure the steering wheel remains straight and drive slowly while loading the car. Try not to stop and start the car as this can burn out the clutch, making safe loading more difficult. 
What To Check Prior To Purchasing Car Ramps
Your load height - the vertical height from the ground to where the ramp will rest 
The maximum weight you wish to load - you will need to check the weight of the car, normally we recommend adding around 200kg to this weight to account for any fuel, weight in the car and operator 
Where the ramps are resting on to - we have 4 connection options available, the most popular is the rest on connection
The cars clearance - for low clearance vehicles you will require longer ramps 
Ramp Options
Our Aluminium Car Ramps are available in lengths up to 4m. They are suitable for load heights up to 600mm and are provided with capacities up to 2900kg. The ramps are only 40mm thick, making them perfect for loading up low heights. The ramps are TUV certified and customisable. There are 4 connection options available, the most popular is the rest on connection which is ideal for Flat-beds and Tipper Trucks. Alternative connections are available, for example the hook connection which is ideal if you are loading onto a beaver tail trailer.
The ramps are perfect for loading cars up kerbs, into containers and onto vehicles. They are provided as a pair and the price on the website is for the pair. These ramps are perfect for loading cars with low ground clearance, such as sports cars and classic cars.

Kerb Ramps - Kerb Ramps allow users to easily load vehicles up heights of up to 150mm and capacities up to 40,000kg, depending on the kerb ramp chosen. They are provided with fixings for tarmac and concrete. There is also a channel provided to allow you to pass a cable below the ramp if required. The kerb ramps are sold in singles and pairs, kits are available for the 100mm and 150mm heights. The kerb ramps are generally steeper than the aluminium car ramps so may not be suitable for vehicles with low ground clearance. 
The kerb ramps include an anti-slip surface making them perfect for loading. We recommend measuring your kerb prior to purchase, the standard kerb height is 100mm.
Quantity discounts are available on our kerb ramps.
Wheel Risers - The Ramp People's plastic wheel risers allow you to load cars up heights of 80mm or 215mm. The Wheel Risers allow you to undertake servicing and car maintenance. The ramps have a grid system which allows dirty and water to easily flow through the ramps. The non-skid design ensures safety. The smooth gradient makes the wheel risers perfect for cars with low clearance, such as sports cars and classic cars.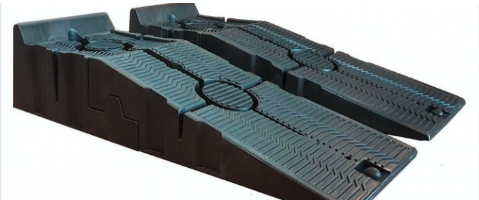 Additional Car Safety 
Wheel Chocks - At The Ramp People we offer a range of Economy and Premium Wheel Chocks to allow you to ensure your car is secure when parked. Wheel chocks are perfect for preventing your car from rolling whilst parked, or during maintenance. All wheel chocks have a maximum capacity so please ensure to select the wheel chock which is suitable for your vehicle.
We have rubber and plastic chocks available, in a variety of colours to ensure high visibility. The anti-slip surface provides additional security, moreover a chain can be used for further security. The wheel chock should be placed in the centre and squared with the tyre. It is recommended that you use a pair of wheel chocks to ensure the vehicle is secured safely.
Wheel Stops / Parking Blocks- Prevent damage to your vehicle during parking by placing parking blocks within the bay to alert the driver of their location within the parking bay. The parking blocks are perfect for preventing potential collisions with walls, posts and other hazards by the parking bay.
The parking blocks include high visibility stripes to alert drivers and pedestrians of their presence. The durable rubber wheel stops are provided with fixings for tarmac and concrete to allow these to easily be secured into place. Please do of course gain the landowners permission prior to installing a wheel stop/parking block.
Sizes range from 550mm -2000mm.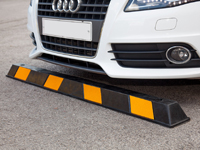 Allow Cars To Safely Pass Over Cables - Safely load your car over cables with our range of Heavy Duty Cable Protectors. These are popular solutions for protecting cables where cars plan to pass over. In addition, they are regularly purchased when you wish to charge your car and require a cable cover to protect the cable and alert pedestrians of its presence.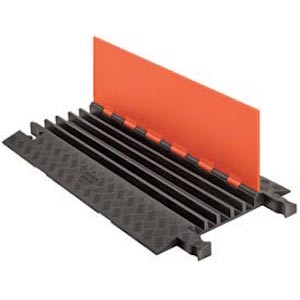 The Ramp People also stock a wide range of road safety & traffic calming equipment, including wheel stops, flow plates and speed bumps which can be viewed here.