Most Popular & In Stock Ramps for Vehicles & Plant
Our most popular & In stock Ramps for vehicles & plant machinery can be found on this section. As is standard across our range the default connection is rest on – if you do require other connections or for urgent order, please get in touch to check stock availability.
Usage guidelines and safety information for our full vehicle ramp range can be found here. 
Note on this section the ramps profile height are mixed, please check full specs, contact us if any information is required.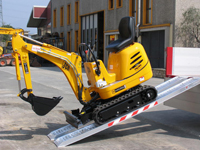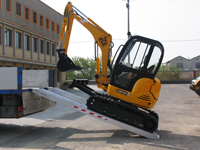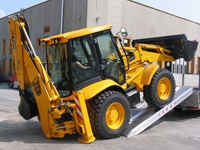 SKU
Capacity (kg)
Height of ramps profile (mm)
Length (mm)
Max load height (mm)
Weight per ramp (kg)
Weight Per Pair (kg)
Width (mm)
Minimum track width (mm)
Price
TRP70/20
2500
70
2000
600
12
24
300
150

€504.30

€410.00

TRP80/20
3000
80
2000
600
13
26
300
150

€575.03

€467.50

TRP80/25
2510
80
2500
750
15.5
31
300
150

€615.00

€500.00

TRP100/25
3500
100
2500
750
20
40
360
200

€713.40

€580.00

TRP80/30
1674
80
3000
900
19
38
300
150

€738.00

€600.00

TRP100/30
2330
100
3000
900
21
42
360
200

€774.90

€630.00

TRP125/35
3435
125
3500
1050
33
66
360
200

€1,107.00

€900.00

TRP140/35
4155
140
3500
1050
38
76
400
300

€1,168.50

€950.00

TRP165/25LTRP
14.000
165
2500
750
43.5
87
510
400

€1,199.25

€975.00

TRP140/40
3325
140
4000
1200
42.5
85
400
300

€1,303.80

€1,060.00

TRP150/35LTRP
6870
150
3500
1050
50
100
460
350

€1,389.90

€1,130.00